Every year on the 7th of April, the World Health Organization (WHO) celebrates World Health Day (WHD), a day set aside to commemorate the anniversary of the ratification of the constitution of the WHO. This year 2023, the World Health Day campaign themed, Health For All, looked back at key public health milestones since the establishment of the WHO in 1948, an apt way to mark its 75th anniversary.
On Thursday, 6th April, 2023, Nigeria's Honourable Minister for Health, Dr Osagie Ehanire, gave a press briefing to commemorate the 2023 WHD, in which he called to mind some of the recent achievements in the Nigerian health sector, premised on the federal government's commitment to "Health for All, Strengthening PHC to Build Resilient Health Systems". He cited strategies such as the Primary Health Care Under One Roof (PHCUOR), the PHC revitalization strategy and the Basic Health Care Provision Fund (BHCPF) as demonstrations of this commitment, and proceeded to highlight key milestones in Nigeria's health system.
Though there has been some progress, Nigeria's health indices remain some of the worst in the African region. Recognizing that the journey towards #HealthForAll is a marathon, not a sprint, it is beneficial to look at achievements such as those listed above and draw insights that can be built on, to accelerate progress towards UHC.
Looking Forward — Four key successes that the Nigerian health sector should learn from to achieve #HealthForAll would include:
Eradication of wild poliovirus
Nigeria being declared wild poliovirus free in 2020 marked the eradication of the virus in the African region, a significant global health achievement. Achieving (and subsequently maintaining) this status took a coordinated, multi-sectoral, multipronged approach, with stakeholders from the government, communities and international partners, designing and implementing strategies to combat the social, cultural, and religious barriers hindering uptake of the poliovirus vaccine, including a lack of trust. Key success factors leveraged community structures, technology and partnerships to identify and drive vaccination of zero dose and under-immunized children. Strong monitoring, evaluation, and accountability mechanisms were also established to measure and ensure the success of the initiative.
What have we learnt from this? A lack of trust and the spread of misinformation and disinformation can be major drivers of vaccine hesitancy. This has been observed not only in the case of poliovirus vaccine hesitancy, but also during the COVID-19 pandemic, where Nigeria's goal of vaccinating 70% of its eligible population by December 2022 remained unmet.
The Service Delivery, Communication, Accountability, Logistics, Electronic (SCALES) management of electronic data and supportive supervision strategy built on these lessons, and further emphasized the need for effective public health communications and community engagement in the deployment of public health measures. Misinformation and disinformation must be proactively identified and stopped, to reduce vaccine hesitancy and drive uptake.
The ongoing Diphtheria outbreak and cases of circulating Vaccine Derived Polio Virus (VDPV) in Nigeria are cautionary examples for policy and decision makers. Public health measures must be continuous, constant and effective, to strengthen the health system and increase its resilience. This will enable the system to absorb shocks and recover from public health emergencies such as the COVID-19 pandemic, while ensuring that the gains already achieved are not lost.
Development of health legislation, policy and financing instruments
These are only a few of the numerous existing policy and financing instruments in the Nigerian health sector, at the federal level. While having effective policy instruments is a good start, challenges exist in effective implementation, which is further worsened by poor monitoring, evaluation and accountability systems that should ensure value for money.
To achieve #HealthForAll, the Nigerian health sector needs to curb inefficiencies and effectively tie spending to improvement in health and economic outcomes, thus making a case for increased investments in the health sector. As aptly put by the WHO Director General, Dr Tedros Adhanom Ghebreyesus, UHC is a political choice — you need policy makers to institute laws and policies that would create an enabling environment. You need funding to implement these policies, and you need strong accountability and communication mechanisms that feed back to policy makers and ensure sustained investments. Nigeria is making good progress instituting policies, but needs to get the latter part right.
At the 2022 health financing policy dialogue organised by Nigeria Health Watch and PharmAccess Foundation, one of the key recommendations from Mr Ben Akabueze, Director General of the Budget Office of the Federation, was for the health sector to increase its absorptive capacity and demonstrate value for money in the implementation of its programmes. This would help make a strong case for the allocation of revenue generated from the SSB tax to the health sector, particularly for the management of non-communicable diseases (NCDs).
Establishment of a Health Workforce Registry
As the world marked WHD, it also commemorated the World Health Worker Week. The establishment of a health workforce registry by the Federal Ministry of Health (FMoH) was informed by the Global Strategy on Human Resources for Health: Workforce 2030, which seeks to ensure that people have access to an educated, empowered and qualified workforce, a feat that requires strong information management systems. As communicated by Dr Osagie Ehanire at the WHD press briefing, this registry — which is functional in 25 States and the FCT — is a comprehensive database of health workers at national and sub-national levels, as well as in the Diaspora and is a useful tool for tracking and ensuring an equitable distribution of the health workforce.
There are, however, other significant challenges facing the health workforce in Nigeria, foremost of which is the brain drain of health workers, further worsened by the COVID-19 pandemic. These conditions were normally influenced by poor remuneration, working conditions, and limited career progression opportunities. This could pose a major crisis for the health sector, as the health care worker to population ratio continues to drop.
There have been a number of proposed policies to address this, the most recent of which is a bill to prevent Nigerian trained medical doctors and dentists from being fully registered until they have worked for at least five years. This is aimed at reducing the brain drain and reaping the dividends of investments in a highly subsidized medical training system. However, the brain drain crisis requires a more robust approach to producing, attracting and retaining a vibrant health workforce, bearing in mind that there is a global shortage of healthcare workers.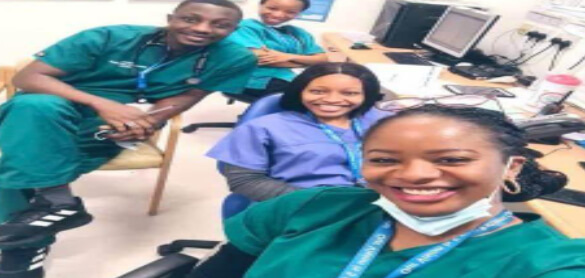 There is a need to address the systemic issues and improve healthcare working conditions to successfully retain health workers. Human Resources for Health (HRH) are key to building a strong, resilient health system.  
At the just concluded Fifth Global Forum on Human Resources for Health, themed "Protecting, Safeguarding, and Investing in the Health and Care Workforce", Dr Tedros Adhanom Ghebreyesus discussed the need to employ a whole-of-government approach to protect all health care workers from violence and discrimination, including the violation of their labour rights and investing in safe working conditions.
Strengthened public health emergency management systems
In 2015, Nigeria reported the first Ebola Virus Disease (EVD) outbreak, one of a total of ten countries affected by the 2014 to 2016 Ebola outbreak. This served as an eye-opener on the level of preparedness against public health threats, and for Nigeria, it kickstarted a series of key activities that strengthened the country's health security systems. The country conducted a Joint External Evaluation (JEE)in 2017 to determine the level of epidemic preparedness, developed a National Action Plan for Health Security (NAPHS) to bridge the gaps identified and established coordination mechanisms and structures for infectious disease surveillance and response.
These structures proved to be key to the country's response to the COVID-19 pandemic and were further strengthened during the crisis with the establishment of more public health laboratories, emergency operation centres, and isolation facilities. The NCDC played a key role in coordinating partnerships to bolster these efforts. What can Nigeria learn from this? Investments in the health system must be continuous, and should be prioritized before, during and after public health emergencies.
Key takeaways
The Nigerian health sector, despite being fraught with numerous challenges, is making some strides towards achieving #HealthForAll. To sustain gains, there is a need to garner learning from past successes, and decisively tackle the persistent challenges from a vantage point, because success can be replicated.