Covid-19 pandemic hugely altered how we normally conduct business in this part of the world. We all know that. We are a part of the new evolution.
With the devastating destructions caused by the pandemic, a lot of things changed, including our attitudes to work. Many workers were encouraged by their circumstances to work from home. Some restaurants closed for a while in compliance with government directives on social distancing. Some retail shops also had to close for a while and business came to a sudden halt. But, thank God, the virus did not wreck the same level of havoc to our part of the world as it did to some other climes.
What the pandemic did generally, not only in Eastern Nigeria but all over the world was to change our perception and approach to demand and supply in every aspect of business and service delivery.
Before now, for instance, many businesses never found the services of delivery agents or courier men necessary. In most instances, business men and women in their shops or workplaces and workers in government and private sector offices had to take some hours off duty for lunch in nearby restaurants and "mama put" joints.  But those days are gone. They should have gone. They should go.  Our people should embrace the new post Covid 19 business habits that are prevailing all over the world – especially in the developed and developing countries. That is our message and our commitment. We will work to see that this happens.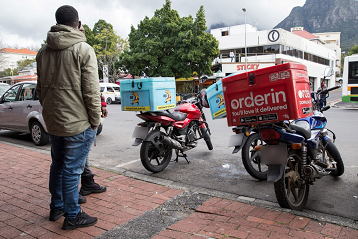 Today, delivery services have become a booming business in many metropolitan cities. Unfortunately, only Lagos has caught up with the level of delivery that can pass globally as best practice, post Covid '19.
In Abia, Akwa Ibom, Anambra, Bayelsa, Cross River, Delta, Ebonyi, Enugu, Imo and Rivers States delivery services are on a very low level and the states are yet to rise up to the standard of Lagos and other big cities like London and New York. I believe they can do this. Entrepreneurs should invest their money and boost this growing business in their quest to consolidate modern city culture among Eastern Nigerians. Here are some tips that would help entrepreneurs invest their money in this thriving business of service delivery.
For such deliveries as food to public servants and business people in their workplaces, it will be necessary to communicate with customers early, before the actual delivery.
Get all your facts intact, like time of delivery, location of delivery, name of receiver etc before delivery is made.
All security requirements must also be met before delivery is made, especially with new customers.
Physical shopping was once the most exciting pastime to do, but today's critical consequences have made it a daunting task, especially in market trading.
So, online shopping now plays an immense role in offering a safe and convenient method for acquiring your basic necessities and wants. This is why all hands must be on deck to enable our people adapt to these changes in the global market as quickly as possible.
At the end of the day, our own daughter, Dr. Ngozi Okonjo-Iweala is at the highest pinnacle of trade in the entire world – she is the Director General of the World Trade Centre. We must make good use of her presence on the global stage to get ourselves well placed because they all know that business is in the DNA of the typical Igbo.